From start to finish, men's fashion has gone through a lot of changes. Once, it was quite common for men to wear traditional clothing.  Later on, casual shirts evolved as an upper body garments with a collar, sleeves with cuff, and a full front opening with buttons. As the fashion scene kept on waxing and waning, new styles became popular and procurable as the earlier ones faded out. Looking fitted and dapper has become elementary. And shirts has become undisputed men's formal apparel.
Though men's shirt sizes are very straightforward and easy to read but still depending on the body type and measurement, shirt sizes may vary, and if not chosen right, perfect fitting could be a challenge. Here, in this guide, we categorically presented men's shirt classifications and which one to choose according to the body type.
Men's Shirt Sizes – What They Mean and How to Find The Right Size for You
The smart outfit for men in which they express themselves is men's clothing. It should be elegant, smart, and comfortable according to the occasion.
In today's world, it has become mandatory that you dress smart. When it comes to choosing the correct shirt size, here are a couple of important factors to consider. Staring from the measurements to the choice of fabrics, they all play a big role in getting that perfect fit.
A few points to keep in account:
Measure yourself, the proper way –
The best way to find a great fit is to measure yourself properly, including your bust, waist, hips, and inseam. Measuring without your undergarments will definitely give an accurate fit, compared to when you take the measurements with your undergarments on.
Bear in mind the model's fit –
It is most possible that the model wearing certain attire, (which you like) might have a completely different body type than you.
Relate to the Retailer's size manual –
Even if you are 100% sure of your measurements, still, it is recommended that you go through the size manuals that many major retailers offer. You may even find them to be super helpful. If you can take a few minutes and answer the site's questionnaire, it will definitely be helpful in getting a more accurate fit. Some websites provide additional features to compare your physical stature to recommend a fit. The websites may even suggest your size in other brands available in order to assist you in selecting the right size and pattern according to your physical appearance.
Refer to the reviews
Read the reviews – or at least a few. The honest public reviews are invaluable and give a much more better understanding of the fit. Do search for some images of customers with a similar body type as yours, which will serve as a visual representation of what the apparel may look like on you. It's sort of like another person trying the clothes on for you.
Scrutinize the material used
The measurements being the foremost concern for clothing, it is vital enough to note the type of material used for the manufacturing of that particular garment. Garment material also has a crucial fact to play in fitting. So while picking the right size shirt for yourself, do consider the fact which material is used to make the clothing. Cotton has got a natural tendency to shrink, which may lead to stretching of the garment.
When in doubt, go for a size up
When you are unsure about the size that you want to buy, it's always a safer option to buy a size up. It is a much easier way to tackle a garment that is a size up than a size down. You can always get it altered.
Loyalty
Every manufacturer has a size meter of their own, so if you fit size 10 of a certain brand does not mean that you will fit the same size of some other brand. Since there is no universal sizing, and the factor of Vanity Sizing is hugely prevalent, its the safest and easiest way to get the perfect fit every time. It is advisable that you stick to the brands you know that fits well.
Get an idea about the store's return policy
Even after following all the above tips, you may get apparel that needs to be replaced; keep in check the Retailer's return policy, as it can make a huge difference between an easy transaction or be stuck with an unwanted piece of clothing.
Can You Measure Men's Clothing Proportionately? What is the Best Measure?
The most elemental details needed for equal measurements are –
Collar – Measure covering the base of your neck.
Chest – For the proper chest measurements, measure around the fullest part of your chest, which comes just under the armholes. Take additional care to keep the tape at an equal level from all sides.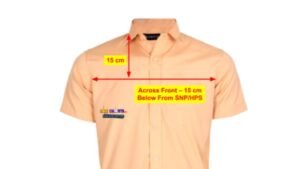 Sleeve – Start the measurement from the collar, continue down the shoulders and continue to measure till the outer side of the arm. Stop at the wrist. While taking measurements, put your hands on an elevated platform so that this allows room in the sleeves.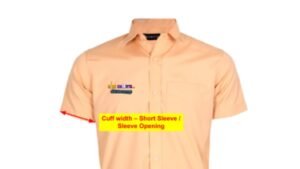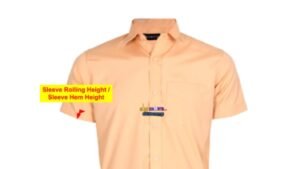 Waist – Measure along your natural waistline, which you will get by bending slightly side. Best measured, just above the belly button.
Inside Shoulder / Inseam – The inseam of a shirt is measured from the top of the inside shoulder (Wide part) to your chest.
Outside Shoulder / out-seam – Measure from your natural shoulder to the hem of the shirt you are wearing.
Pocket Position:
Center back length – Measure from the center of the collar till the hem of the shirt or till your buttocks.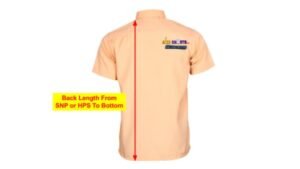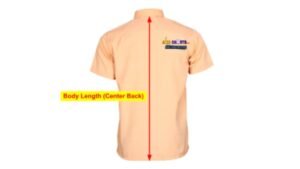 What is a Men's Shirt Size Chart and How Do I Use It?
Men's shirt sizes are a real struggle to understand. Finding a shirt that looks good and, at the same time, offers perfect fitting is a real treasure. The basic four measurements are necessary in order to get a well-fitted shirt the Neck, Sleeve length, Chest, and Waist. Easier said than done – If all the measurements are taken, you still need a proper reference.
Herein comes the size chart – its a document that shows the measurements for your size range and within your brand. Having the right measurements, you can always refer to these charts for the correct size.
Using the size chart is really intriguing. First, you should have your measurements handy. The clothing size charts are basically set up on a table. On one first axis, there will be the sizes, and the others are populated with measurements in either inches or centimeters. Get the row or column that best caters to your measurements, and you will be aptly able to know your accurate size.
MEN'S SHIRT SIZE CHART
| | | | | |
| --- | --- | --- | --- | --- |
| Size | Neck | Sleeve | Chest | Waist |
| 5XL | 22-22½″ | 38½-39″ | 62-64″ | 58-60″ |
| 4XL | 20½-21″ | 38-38½″ | 58-60″ | 53-55″ |
| 3XL | 19-19½″ | 37-38″ | 54-56″ | 48-50″ |
| 2XL | 18-18½″ | 36-37″ | 50-52″ | 44-46″ |
| XL | 17-17½″ | 35-36″ | 46-48″ | 40-42″ |
| L | 16-16½″ | 34-35″ | 42-44″ | 36-38″ |
| M | 15-15½″ | 33-34″ | 38-40″ | 32-34″ |
| S | 14-14½″ | 32-33″ | 34-36″ | 28-30″ |
LONG & SHORT SLEEVE SHIRTS 

SIZE GUIDE
The long-sleeved dress shirts provide full coverage of the arms, extending from the shoulder to the wrist., whereas the short-sleeved ones provide coverage to the elbows. Both the styles are equally accepted in day-to-day wear, though the long-sleeved ones are the most preferred choice for formal occasions.
SIZE
TO FIT CHEST SIZE

CM

INCHES

XXXS
76-81
30-32
XXS
81-86
32-34
XS
86-91
34-36
S
91-96
36-38
M
96-101
38-40
L
101-106
40-42
XL
106-111
42-44
XXL
111-116
44-46
XXXL
116-121
46-48
US Shirt Size Chart Comparison –UK<>US<>EU
| SIZE | US | UK | EU | KOREA | JAPAN | AUSTRALIA |
| --- | --- | --- | --- | --- | --- | --- |
| 3XL | 46-48 | 46-48 | 56-58 | 115-120 | 6 | 46-48 |
| 2XL | 44-46 | 44-46 | 54-56 | 110-115 | 5 | 44-46 |
| XL | 42-44 | 42-44 | 52-54 | 105-110 | 4 | 42-44 |
| L | 40-42 | 40-42 | 50-52 | 100-105 | 3 | 40-42 |
| M | 38-40 | 38-40 | 48-50 | 95-100 | 2 | 38-40 |
| S | 36-38 | 36-38 | 46-48 | 90-95 | 1 | 36-38 |
| XS | 34 | 34 | 44 | 85 | 0 | 34 |
What is XL/XXL in Men's size?
Considering the size of the upper body clothing, like Shirts and T-Shirts, XL means Extra Large fit. It is larger than the medium fit. In numbers, it typically comes up 44-46″ or 112- 117 centimeters, whereas XXL means Double Extra Large and comes up to 48″ or 122 centimeters in chest measurement.
What size is 42 EU in US clothing?
European clothing and American clothing are poles apart. The Europeans are quite conservative as related to American fashion.
The provided charts will help in a quick conversion between the sizes. Typically, 40-42 is a large size in the EU, but it is a size 8-10 according to US clothing.
Can I try Polo Shirts instead of Formal Men's Shirt?
Polo shirts are not only for polo players; rather, there may hardly be such a person who hasn't donned a Polo Shirt. These shirts have become an inevitable part of the fashion of the contemporary world. The button-down collared shirt – the very first of its kind, was in most probability invented by the British Polo players. The chief feature of the shirt is that the collar won't flap in the wind and obstruct the vision of the player; supposedly, from that time, the polo shirts have been giving company to us.
The term 'Polo Shirt' is synonymous with the Ralph Lauren model, but designers from around the globe are coming up with their own versions and making a niche in the everyday wardrobe.
Youth Shirt Size Chart:
SIZE

C-TOTAL




LENGTH(CM)

B-CHEST(CM)

A-SHOULDER




(CM)

44/XL

76

54.5

46

42/M

74

52

44

40/M

72

49.5

42

38/S

70

47

40

36/15-16 Years

69

46

38

34/13-14 Years

65.5

44

36.5

32/11-12 Years

62

42

35

30/9-10 Years

58

40

33.5

26/7-8 Years

55

36.5

30.5

26/5-6 Years

51

35

28
The fashion clothing sizing system can, at times, be very challenging to understand; the most important thing, however, is to get the perfect fit. If you are at a store and not buying online, it is always suggested that you try on a variety of ranges to get your best fit.