Beauty comes in all sizes, but it is extremely crucial that you find the right size for the clothes you buy. Women's clothing is often designed differently than men's clothing and therefore needs its own sizing chart. The most common mistake that people make when buying clothes for themselves is not understanding their measurements and what size they should wear. Right measurement is the single most key factor in order to find the right size for yourself.
People usually think about their height, weight, and chest measurement when it comes to finding out what size they are, but there are other things that need consideration as well, such as arm length or inseam length. Beauty comes in all sizes, but as a rule of thumb, a woman's bust and hips should measure the same, and the waist should be 10 inches less. However, this rule does not apply anymore to today's Power Lady.
In this article, we will deep dive into the women's shirt size measuring system, provide a brief overview of how to find your women's shirt size, and how to compare it with men's shirt sizes.
The standard sizes for women's shirts are between XXS to 5XL.
Can You Measure Women's Shirt Size Proportionately? What is the Best Measurement procedure?
If we go by the proportions, bust, waist, and hips are the three measurements that specify the body proportions for the purpose of fitting clothes. They are the inflexion points of the women's body shape and indicate their appearance. A very vital difference exists between men's and women's statistics, proportionately, women tend to have a narrower waist and wider hip.
Collar –
Bust-
In order to take the correct bust measurement, one has to place the measuring tape on the highest point of the chest and wrap it around the back, keeping an inch lower than the armhole.
Waist-
The waist is usually the smallest point of the upper torso. One needs to wrap the measuring tape just a few inches above the belly button to get the appropriate measurement.
Hips-
Hips measurement should be taken by wrapping the measuring tape around the highest point below the waistline. It is usually placed above the swell of one's buttocks. This part is said to be the widest part of a woman's anatomy.
There is yet another type of measurement, which is referred to as 'high hips'. That is basically the place where most of the end of the shirt. High hips can be measured by placing the tape around the upper swell of one's buttocks just above the pelvic bone.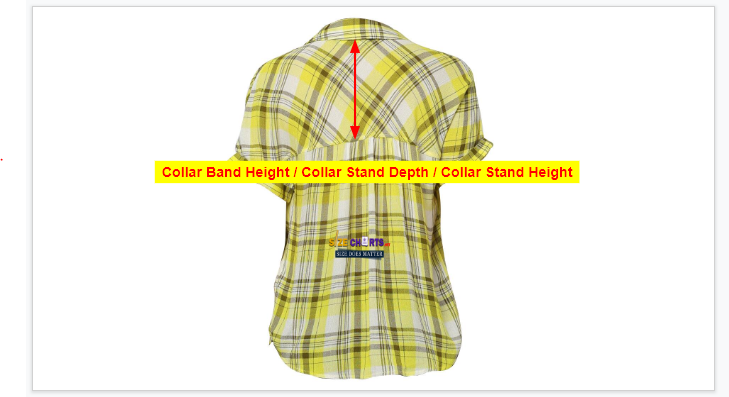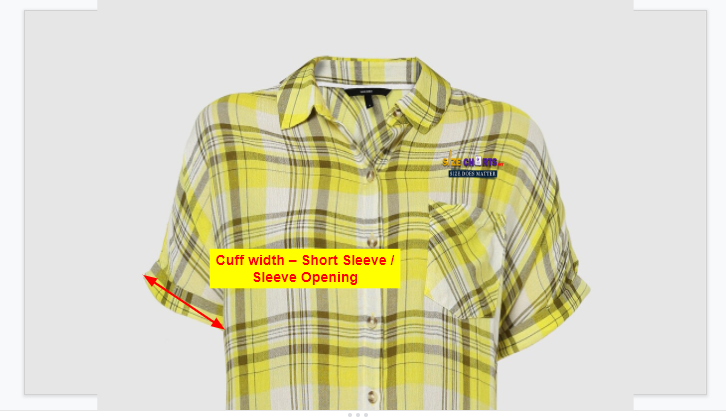 The Body Types:
There are typically, seven body types for women. However, it is safer to admit that all women naturally do not fall into the same body type. Let us shade a bit more lights on these types~
Hourglass-shaped-
This body type is the most poised and balanced. The bust and the hips are in equal proportion and well-balanced, with a clearly cinched waist.
Top hourglass-shaped-
This body type is almost similar to the hourglass shape but has a more defined bust than the hips.
Bottom hourglass-shaped-
This is just the opposite of the top hourglass. The waist is slightly bigger than the hips in this case.
Spoon or pear-shaped-
This body type is quite similar to the triangle shape; however, in this case, the waist is well defined with a wider hip area compared to the bust.
Triangle shaped-
It is very similar to the spoon-shaped body. The only visible difference is the waist which is not properly accentuated like the previous shape. The bust is smaller with a much wider hip area.
Inverted triangle-shaped-
As the name suggests, this body shape has a much wider bust and shoulder. The hips are usually smaller and not so defined.
Rectangle-shaped-
This body type is proportional throughout, starting from the shoulders, bust, waist and hips. This is more of a general and widely found body type where there is no well-defined waist and hips.
So, it's important to make out which body type one belongs to before buying clothes. This would definitely help in highlighting the strong points of one's body and hence, the clothing selection will be a lot easier.
Styles and Fit for different kinds of  Women's Shirts:
Coming to Women's shirts, there are myriad options to choose from. While the men only shuffle between (regular, slim, big and tall), women's apparel varies in style, cut, fit and so many other criteria. Despite that, here aren't precise names for each kind of style.
When choosing a shirt or a t-shirt, it must be taken into consideration what will look good, its fit and its fall. A shirt or dress is much more formal than as compared to a T-shirt.
Let us have a look at a few kinds of women's wear~
Tube top-
These tops are short, covering just the bust-line or sometimes it covers the abdomen as well. The material of the tube top is stretchy and designed to wrap around the torso securely. Tube tops are part of the classic styles and can be easily paired with a sweater or blazer.
Sleeveless Shirts-
A sleeveless shirt covers the edge of the shoulder. These shirts usually have collars or high necklines. They are ideal attire for the summer or a laying item under a blazer.
V-Neck Shirt-
The V-Neck shirts have been doing the rounds since the 1960s. The prime feature of this shirt is the V-shaped collar. They are hugely available in long, short or sleeveless varieties. The V-neck creates an elongated visual effect of a longer neck. So, it is a great styling option for those who have a heavy bust, a short neck or broad shoulders.
T-shirt-
T-Shirts are the most popular clothing item available. It got its name from the letter 'T' when laid out. The simplest of the shirts are the short-sleeved ones with crew necks. The T-shirts are available in a huge variety of colors and styles. They can be customized as well.
Blouse-
The terms "blouse" and "shirt" are often used synonymously. It is a top but worn in many different styles. Typically, they are button-down and rarely have collars, though there are collared varieties available as well. There are myriad choices in this category.
Baseball Shirts-
These are collarless shirts with buttons. Usually, there is a team logo printed on the left side of the shirt.
Camp Shirts-
These shirts come with buttons, collars and short sleeves. They are normally tucked inside the pants.
Camisole-
These shirts come with spaghetti straps and are loose-fitted. It is super stylish and trendy. They can also be worn inside other shirts or blazers according to the choice of the wearer.
Aloha Shirts-
These are perfect for vacations. Loud colors and comfort are two basic features of these shirts.
Sweatshirts-
Perfect for a cold day, these are just pull-down shirts with hoods and help you keep the cold at bay. These are usually pullover sweaters with hooded necks.
Polo Shirts-
These shirts are unisex and come with a collar. Anybody who dons the shirt looks good. The Polo shirts usually create a very fine impression.
Denim Shirts-
The cotton twill or Denim is the go-to shirt, be it any casual occasion. Comfort and style are the two things that go interchangeably with these shirts.
Dress Shirts-
These shirts are very sharp-looking and very appropriate for the formal floor. Both the button up and button-down look cool and professional.
These are a few shirt styles explained simply. There isn't any typical formal shirt for women as they are expected to appear in gowns and dresses at formal events. But, exceptions are always there and women are never too shy to break the traditions and emerge victoriously. All one has to do is look for the right style according to the right event or occasion.
WOMEN'S SHIRT SIZE CHART IN INCHES
| | | | |
| --- | --- | --- | --- |
| Size | To Fit Bust ( In ) | To Fit Hip ( In ) | To Fit Waist ( In ) |
| 2XL | 42″ | 45″ | 36″ |
| XL | 40″ | 43″ | 34″ |
| L | 38″ | 41″ | 32″ |
| M | 36″ | 39″ | 30″ |
| S | 34″ | 37″ | 28″ |
| XS | 32″ | 35″ | 26″ |
| XXS | 30″ | 33″ | 24″ |
Women's Plus Size Shirts:
It's not about what size one wears or how curvy she is. It's always about how she wears her size. The most important thing is to be comfortable in the clothing one chooses. If a certain style does not give enough feel or kick, it's better not to follow such styles.
A perfect-sized shirt should not hang below the waistline. The shoulder hem should fit properly and not extend beyond the shoulder towards the arms. The shirt should be comfortable and fitted according to the anatomy of the body. If one likes loose fittings then there should be enough room between the material of the shirt and the skin.
Women's Plus Shirt Size Chart
| Women's Plus Alpha Size | Hips in Inches | Waist in Inches | Bust in Inches | US Women's Plus Size |
| --- | --- | --- | --- | --- |
| 5X | 62-60 | 53-51 | 60-58 | 32W-30W |
| 4X | 58-56 | 49-47 | 56-54 | 28W-26W |
| 3X | 54-52 | 45-43 | 52-50 | 24W-22W |
| 2X | 50-48 | 41-39 | 48-46 | 20W-18W |
| 1X | 46-44 | 37-35 | 44-42 | 16W-14W |
| 0X | 42 | 33 | 40 | 12W |
Women's sizes are far more diverse than that of men and children. Apart from sizes, the clothing is labeled according to body types such as petite, curvy, tall, plus size, maternity size, and vanity sizing as well.
The most frequently used international sizes for women are small, medium, and large, although, there are females running plus or petite size, which may have identical sizes just like in children's size.
Some clothes are labeled depending on their body type as they are curvy, lean, straight, pear type, spoon type, oval, inverted or hourglass.
Women's Shirt Size Chart Comparison –UK<>US<>EU<>IT
UK
30
28
26
24
22
20
18
16
14
12
10
8
6
4
2
AU
30
28
26
24
22
20
18
16
14
12
10
8
6
4
2
US
26
24
22
20
18
16
14
12
10
8
6
4
2
0
00
IT
62
60
58
56
54
52
50
48
46
44
42
40
38
36
34
RU
72

/74

70
66/68
64
60/62
58
54
50
48
46
42/44
40
38/40
38
36/38
EU
58
56
54
52
50
48
46
44
42
40
38
36
34
32
30
There is always a way to better your choice and personality. Items of clothing are reason to look presentable and comfortable as well. If a shirt does not effectuate that, then serious re-consideration is needed about the overall dressing. One should always remember that confidence is beautiful, no matter the size or weight one has.