'Men-inspired clothing' has been a crucial feature in unleashing the inner potential of women and establishing their position in a patriarchal society. Since the end of World War II, women kept on changing the norms and standards, establishing empowerment. No, the path was definitely not an easy one but proved to be a success over the decades.
One of the most famous fashion icons of the 20s was Coco Chanel, who rebelliously disregarded the feminine touch in clothes and was often seen wearing trousers and sweaters. Then came the 'power suit', which included a blazer with thick shoulder pads, a t-shirt or tunic inside, topping it up with a pencil skirt.
In contemporary times, t-shirts have also proved to be the go-to clothing for school and college-goers. It is the simplest form of outfit which can be worn during all the seasons. They are not only stylish but also offer a diversified rendition to your wardrobe.
Here is this article, we have categorically explained how Women's t-shirt size system works and also illustrated the perfect fitting guide with respective size charts according to the body type.
But before we move into the t-shirt size chart guide, it is extremely crucial to understand how to measure your body to pick the right fitting T-shirt for your body.
Also Check:
How to Measure your body to find the Perfect T-Shirt Size:
To start the process, one must take a measuring tape and follow the steps one by one to understand it better.
Bust measurement-
The measuring tape should be placed upon the highest curve of one's chest, just an inch below the armholes, to get an accurate bust measurement.
You should keep in mind to leave enough space between the tape and the body to ensure a comfortable fit. It should be kept in mind that after putting on undergarments, the t-shirt should not cling to one's body and look offbeat.
Waist measurement-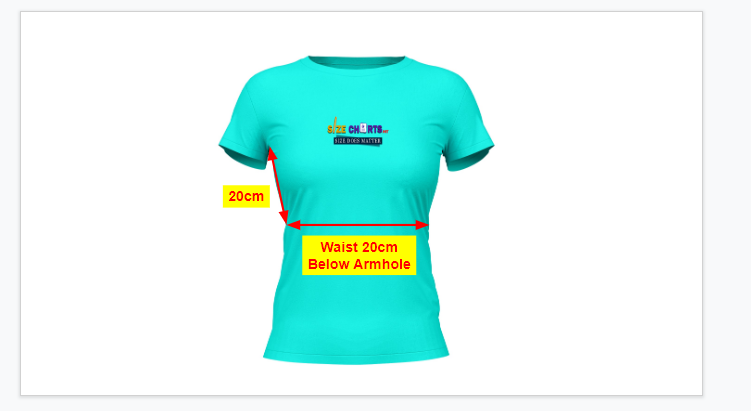 The waist should be measured by placing the tape around the smallest part of the stomach, usually a few inches above the belly button, to take the correct numbers.
Hip measurement-
The hip is the curviest area of a woman's body after the bust. It is generally referred to as the area around the curve of the buttocks. In case of lengthier t-shirts, this measurement is necessary to be taken.
Sleeve measurement is only required in case the t-shirt is totally body-hugging or the arms are voluminous. The measuring tape should be placed starting from the shoulder joint up until the length required. In case a of half-sleeve, the measurement should be taken till one's elbow and in case of a full-sleeve, till the wrist.
In order to purchase a proper-fitted t-shirt online or offline, one should have ample knowledge regarding her body. The very first aspect to look into is obviously the measurements, which is followed by body type and fit. Let us first discuss about the measurements and how to do it accurately.
Women's T-Shirt Size Chart
| | | | |
| --- | --- | --- | --- |
| Size | To Fit Hip ( In ) | To Fit Waist ( In ) | To Fit Bust ( In ) |
| 2XL | 45″ | 36″ | 42″ |
| XL | 43″ | 34″ | 40″ |
| L | 41″ | 32″ | 38″ |
| M | 39″ | 30″ | 36″ |
| S | 37″ | 28″ | 34″ |
| XS | 35″ | 26″ | 32″ |
| XXS | 33″ | 24″ | 30″ |
From the chart given above, we can clearly make out the numbers provided in inches and what they represent. In order to tally with the body measurement with the numbers, first, measure your body and then see what would be the most appropriate fit for you.
Now, in order to find the correct size from the chart above, one must search for the nearest number that she has noted down under the specific columns. For example, if her waist measurement is 28″, bust is 33″ and hip is 37″, she should go for the size S.
How to Choose T-shirts based on body type?
Choosing the right t-shirt requires a lot of patience and trial. If she has no idea, which style or pattern to look for, she should simply go for the easiest options without being picky.
In order to choose the correct size and pattern, one should know the body shape that she possesses. It is nothing to shy away from. She simply needs to observe the curves and structure of her body to determine the correct shape.
For example, a woman whose shoulder, waist and hips are almost aligned, she has a rectangular or straight body. In such cases, she should always look for t-shirts with different collar variations or maybe cold shoulder ones to bring all the attention towards the upper body.
When the shoulder and hips are aligned and the waist is a bit smaller compared to those, she has an hourglass-shaped body. Crop tops or fitted t-shirts look absolutely gorgeous as it showcases the navel area.
A woman who is curvy with a less defined waist, has a round or apple-shaped body and should go for a bit loose t-shirts with flared skirts or pants to balance the look.
When the hips are broader than the shoulders, it is likely that a woman has a pear-shaped or triangle shaped body. In that case, the waist could be defined with a belt and more diagonal prints should be sought after in t-shirts to give an illusion of volume in the upper torso.
If the shoulders are broader than the hips, then an inverted triangle shape is what we call it. Loose, oversized t-shirts can be worn to bring more volume around the waist.
Women's Plus Size T-Shirts
The plus-sized clothing industry is thriving after many body positivity campaigns and struggles faced by 'chubby' women over the decades. One has rarely seen a plus-sized celebrity or model walking the ramp, which forces them to believe that they are different and unacceptable in the society.
This is a very wrong notion that requires a lot of struggle to change it otherwise. Now, all the high-end brands like Dolce & Gabbana, Louis Vuitton and Mango have increased their options in plus-sized clothing to maintain their position in today's competitive market.
Social media has also proved to be helpful in promoting plus-sized clothing and setting forth heart-felt messages on loving one's true self.
Now let us find out the standard measurements of a plus-sized body with the help of the chart given below:
Women's Plus




Alpha Size

US Women's Plus Size

Waist in Inches

Bust in Inches

Hips in Inches

5X
32W-30W
53-51
60-58
62-60
4X
28W-26W
49-47
56-54
58-56
3X
24W-22W
45-43
52-50
54-52
2X
20W-18W
41-39
48-46
50-48
1X
16W-14W
37-35
44-42
46-44
0X
12W
33
40
42
Types of Women's T-shirts:
Like men, women's t-shirts are also of various categories. From crew neck to crop tees, there are different varieties to choose from. One can never get bored of a t-shirt or have inner turmoil regarding the existing style in her closet going out of fashion. This is simply because t-shirts are timeless. No other clothing can simply match the beauty and elegance of t-shirts.
Crew neck or round neck t-shirts-
Crew neck t-shirts are a must have in one's closet. Black and white being the staple colors, suited to crew necks. They consist of a typical round neck which falls loosely around the neck, keeping it airy and comfortable. These can come in half or full sleeves.
V-neck t-shirts-
V-neck t-shirts are also a common sight among men, women and children. If considered chronologically, they come just under the crew necks in terms of popularity among every age group. They are simply in the shape of a V that ends a few inches below the neck.
Collared t-shirts-
These are the female version of men's polo tees. They look almost similar and come mostly in solid colors or can be printed as well. They have a collar and a few buttons running down towards the upper-torso. They look good as formal or can be paired with jeans and shorts for a more casual outing.
Knotted crop tees-
These t-shirts have emerged after the idea of crop tops came into the lime light. The midriff remains totally visible, giving a chic look. They are knotted or tied just a few inches above the navel to showcase the toned abs. These look extremely good on women with hourglass-shaped body.
Boyfriend t-shirt-
Boyfriend tees are simply an oversized version of crew neck or V-neck t-shirts. These reach up to the mid-thighs in most cases. They are super comfy and airy during summer days.
Cold shoulder t-shirts-
These t-shirts simply have a cut out on the sleeves, just below the shoulder hem. They showcase the upper area of the arm depending on the size of the cut. These are an absolute favorite type for the young adults who want their t-shirts to have sleeves while promoting air circulation near the arms.
High-neck or turtle neck t-shirt
High neck t-shirts are also a common sight during winters. They can be topped with blazers or jackets to create an irrevocable style statement. Apart from these, there are also various kinds of sleeves like, sleeveless, half, three-quarter and full to choose from. So, repetition of the same type is very unlikely.
Want to buy a t-shirt from an international brand? Know your size now!
Often we find it difficult to refer to the size charts provided by international brands and convert them into our XML system of sizing. This is the reason, we are not confident enough to buy clothing from brands hailing from different countries.
UK
30
28
26
24
22
20
18
16
14
12
10
8
6
4
2
AU
30
28
26
24
22
20
18
16
14
12
10
8
6
4
2
US
26
24
22
20
18
16
14
12
10
8
6
4
2
0
00
IT
62
60
58
56
54
52
50
48
46
44
42
40
38
36
34
RU
72

/74

70
66/68
64
60/62
58
54
50
48
46
42/44
40
38/40
38
36/38
EU
58
56
54
52
50
48
46
44
42
40
38
36
34
32
30
For example, a woman from Italy in size 42, willing to purchase a t-shirt from a brand of the US, she needs to look for a size 6. If she has an issue with fittings, she can always purchase a size higher or lower depending upon the brand.