There is no match for a belt to keep the pants in place and save yourself from getting uncomfortable or falling off the waist. Belts fall under accessories that are usually made of leather, heavy cloth, foam, or plastic which helps to secure the pants or skirts in one place along with accentuating the waistline. They can be adjusted at the buckle to suit the preference.
The common mistake we all make when picking out a belt is confusing whether the belt size/length is equal to the pant waist size we have and trying to find the same labeled belt size. When figuring out the belt size, here's the first thing you should always keep in mind; Waist  and best size are not the same.
The standard belt size varies from XS to 4XL in the case of men and from XS TO 3XL in the case of women.
How D

oes The Belt Sizing System Work?
The belt size is not typically the pant size. The belt size has to be 2 or 3 inches larger than the usual pant size. Commonly belts have 5 or six holes in them and the sizes are determined from the end of the buckle to the middle hole. The belt size should exclude the size of the buckle and only the strap should be taken into consideration.
The US belt sizes are measured in inches, while the European belt sizes are measured in centimeters. The belt size is usually stamped at the back of the buckle or the loop of the belt.
Figuring out Your Belt Size: Step-by-step Measuring Process of Your Waistline:
To attain the correct measurement, one needs to keep a few things in handy, like the measuring tape, the garment (like jeans, trousers, skirts, etc.) and a mirror. Then, he needs to follow the steps given below~
Step 1-
One should put on the outfit that he wishes to wear with a belt. The pants should be pulled up to the same level that he usually wears either on the hips or on the waist. The measurement will differ as the shape of the hips and waist are slightly different in the case of men and women.
Step 2-
The immediate step is to weave a cloth tape through the belt loop of the pant or skirt, just like the way a belt is worn. The exact placement of the pant or skirt should be done as per the preference of the customer.
Step 3-
One should take the help of a big-sized mirror or another person to determine the correct measurement. The tape should not be held too tightly, as there should be enough room left for easy movement. The nearest quarter-inch measurement should be noted down.
Step 4-
As soon as the size is determined, the number is to be noted down and then referred to the nearest figure given in a chart.
Another way to determine the belt size is to add two inches to the size of the pants. For example, if the pant size is 34, the belt should be 36 for a better and more comfortable fit.
Belt Anatomy
The belt is the only piece of accessory that is an ardent requirement for men and women who likes to wear pants or skirts. These are very important in formal wear as they tend to highlight the overall appearance.
Belts consist of three important parts, namely, strap, buckle, and loop.
Buckle–
The belt buckle usually has three main parts- the frame, the prong, and the bar. The frame stands as the base of the buckle, where the prong is attached in the middle. The prong is a movable piece of metal that helps in adjusting the fit of the belt. The buckles are usually made of stainless steel, Zinc alloy, or simply plastic.
Strap-
The strap of the belt is the actual part of the belt itself, which is made of leather or other synthetic material. The strap is usually flat and sturdy and goes around the circumference of the waist. It has tiny holes or notches carved in a linear pattern that runs a few inches toward the middle portion of the belt. The prong goes inside one of the notches to create the required volume.
Loop-
The loop is the object that holds the other end of the belt securely so that it does not hang carelessly. The loop makes sure that the belt looks neat and crisp. Loops are made of leather or sometimes metal.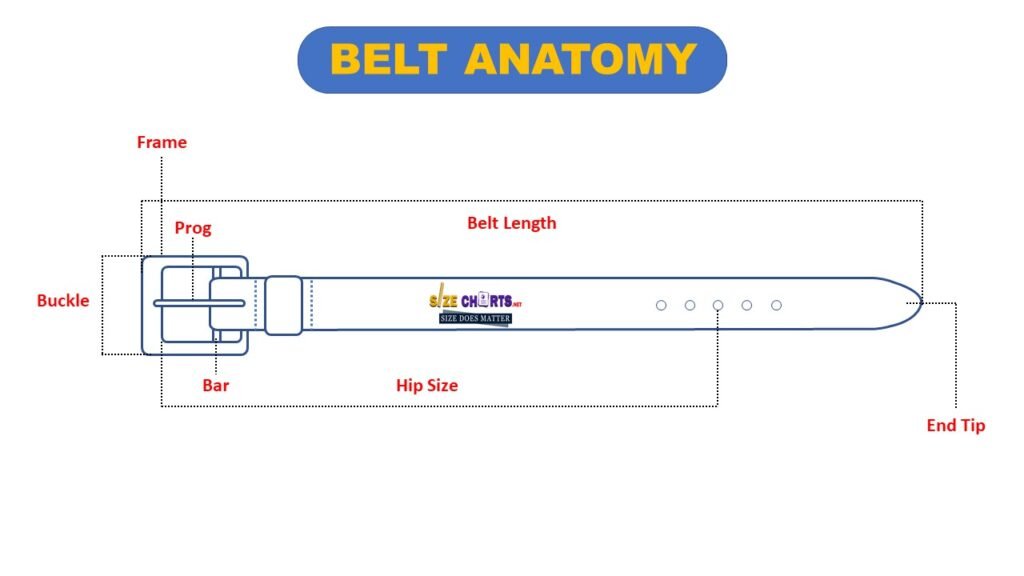 Men's Belt Size Chart
Numerical Belt Size

General Belt Size

Length of Belt




(inches)

Waist Measurement (inches)

50
4XL
49-50
46.5-48
48
3XL
47-48
44.5-46
46
2XL
45-46
42.5-44
44
XL
43-44
40.5-42
42
XL
41-42
38.5-40
40
L
39-40
36.5-38
38
L
37-38
34.5-36
36
M
35-36
32.5-34
34
M
33-34
30.5-32
32
S
31-32
28.5-30
30
XS
28-30
26.5
Download Men's Belt Size Chart PDF
Here from the above chart, one can very well identify the size of belt required for a particular waist size. For example, a man with a waist size of 38″ need a belt of size 40 (L).
Women's Belt Size Chart:
Numerical Belt Size

General Belt Size

Length of Belt




(inches)

Waist Measurement (inches)

40-42
3X
40-41
38-39
38-39
2X
38-39
36-37
36-37
XL
36-37
34-35
33-35
L
33-35
31-33
31-32
M
31-32
28-30
28-30
S
28-30
26-28
28
XS/Petite
Up to 28
Up to 26
From the above chart, we can conclude that a woman with a waist measurement of 34″ requires a belt of size 36(XL) and so on.
Download Women's Belt Size Chart PDF
How to Choose the Right Belt Size for Your Tight or Flared Pants & Shirts
Belts can be worn in many ways when it comes to women. As we know that women have numerous varieties of clothing with endless accessories and style techniques. Accessories like belts, shoes and bags tend to spice up the whole look if worn properly. Here are a few ways to wear a belt right:
Over a long tunic shirt- Belts can be worn over a long tunic and paired with skin-hugging tights or jeans to bring out the curve of the waist.
To cinch a dress- Belts are a common accessory when it comes to straight and shapeless dresses. They can amp up the look with just the right pinch along the waistline.
Over classic style pants- Flared or straight pants must be worn with a belt and the shirt should be tucked in to give that crisp formal look.
Over a blazer- Blazers or oversized coats tend to hang loosely over the body. At times it looks bland and belts add just the right amount of curves to accentuate the waistline.
To cinch a jumpsuit- Jumpsuits that are loose-fitted can be worn with belts on top to create a perfect look.
With a skirt- Belts worn with casual or formal skirts look stunning, adding the right amount of sophistication and class.
Women's Waist Size vs. Men's Waist Size – Which Belt Should You Buy & Wear?
Belts for men and women were invented for different purposes altogether. Men's belts were originally invented for utilitarian purposes, i.e., to carry weapons and other necessary items. Gradually they emerged to be more functional and started serving the purpose of keeping the trousers intact. The sizes of men's belts range from 28″ to 50″, covering the waist sizes from 26.5″ to 48″, respectively.
Women's belts were invented to create an illusion of a smaller waist, which complemented their curvaceous anatomy. Gradually they also started to gain importance when women adorned outfits that were inspired by men. Women's belt sizes range from 28″ to 42″ and more, depending upon the brand. These belt sizes cover the waist sizes of women from 26″ to 38″ or more.
Apart from the varying waist size, there are a few other differences in belts for both genders. For example, men's belts are more sturdy and made of thicker material. They do not have any studs or accessories whatsoever. Women's belts are more on the delicate and thinner side with a few distinctive features like studs, laces and ribbons. Men's belts even have a buckle on the right side and holes on the left, whereas women's belts have a buckle on the left and holes on the right side.
Types of Belts: 
The exact date for the invention of belts has not been dug up, but it was somewhere around 3300 and 1200 BCE.
Most of the ancient belts were not made of leather as they were simply cords or strings to hold the trousers or dresses in place. People living in Europe and parts of Asia used the early variation of modern belts.
There are numerous types of belts available in the market. Some of them even have various other functions to perform rather than holding up the pants or skirts.
Formal belts-
These are usually made of pieces of cloth, mainly satin or silk, that are reserved for formal attires like tuxedos or dress slacks. A 'cummerbund' is a typical form of pleated belt worn with tuxedoes. Whereas a 'suede belt' is mostly considered semi-formal as it can be worn with coats and shirts for any occasion.
Leather belts-
Leather belts are found in all shades of black and brown. They are made of cowhide leather and the quality of the belt determines the price. Faux leather belts are also available in the market for those who lead a vegan lifestyle. Leather belts can be worn for any occasion, be they formal or casual.
Braided belts-
Braided belts have many thin pieces of leather braided together to form a plaited pattern. These belts have longer durability because of their pattern. They can be made of leather or cloth. These belts mostly go with casual outfits.
Garter belts-
A garter belt is a form of lingerie worn to keep the socks or garter from falling. These belts are mostly made of fine silk and net and have a set of clips attached to them, which has to be fastened with the thigh-high slacks or socks to keep them in place.
Chain belts-
Chain belts are made of stainless steel or different metal that is in the shape of a chain. These belts can be worn separately on top of a dress or tunic to bring out the curve of the midsection into view.
Obi belts-
Obi belts are a type of wrap belt that has a bow in front. These belts are usually made of cloth and are wide enough to cover the midriff. These belts are a popular style in Japanese culture, like in martial arts and kimonos.
Cinch belts-
Cinch belts are wide belts with buckles in front, that can be worn on a dress or tunic. They are made of leather or other stretchable material that can adjust the shape of the midsection. The main function of these belts is to make the waist look smaller.
D-ring belts-
D-ring belts do not have the typical belt buckle with prongs. They have two metal rings in a D shape that keeps the belt intact on the waist. D-ring belts are mostly made of cotton or other fabric material.
Skinny belts-
Skinny belts are made of thin straps of leather. They have a similar structure to a normal leather belt, but the buckle size is comparatively smaller. These belts are mostly used to accentuate the waistline, making them more stylish than utilitarian.
Canvas belts-
People in military first started using Canvas belts. These belts are made of woven fabric, usually a blend of cotton, and have a sturdy plastic buckle rather than a metal one. These belts are comfortable to wear as they do not restrict movement like leather belts.
Reversible belts-
Reversible belts can be worn on both sides as they have a very flexible and twisted buckle. Usually, reversible belts have two different colors on alternate sides, making it possible to carry out two different looks with one single belt. These come in handy for those who do not feel the need to invest in more than one belt. The neutral or dark side can be worn as a part of formal wear and the bright side can be worn with any casual dress.
Studded belts-
Studded belts have glitters, shine or small detailing on their surface, made of studs or small pieces of metal, that bring out a bit of texture to spark up the ordinary flat belt.
Western belts-
Western belts were typically worn by cowboys while riding horses. These belts have intricate silver designs on the buckle and wide leather straps to fit the anatomy of the waist. These are usually comfortable as the wide straps do not tend to cling to the waist and make the movements restricted.
How to Find the Perfect Belt?
A few observations have to be made to shop for a belt. Some people find it unnecessary to invest in several belts. So, it is always advisable to go for a black or brown leather belt. There are a few other tips and tricks for finding out the correct belt:
Choose the correct size when it comes to buying belts. Belts are required to hold up the pants and trousers. The correct size should be attained by measuring the waist or hip properly. The belt size should always be at least a couple of inches longer than the pant size. Preferably two to four inches.
Pick the right belt for the right attire. It includes choosing the right texture, color, width and buckle.
Try to match the belt with shoes and bags. This sets the overall standard of the look that one needs to achieve.
Always go for a wider belt with casual wear and narrower ones with formal.
Try to match the material and color of the belt with the trousers or shirt. One can also put on a different colored belt that goes with the color scheme.
When in doubt, always go for shades of black and brown. They almost match every outfit.
Kids Belts Size Conversion Chart:
Clothes Size
(US)
Age clothes
European Belt Size
(centimeters)
US Belt Size
(inches)
Clothes Size
(Centimeters)
12
12 yrs
70
28″
152-158
11
11 yrs
70
28″
146-152
10
10 yrs
70
28″
140-146
9
9 yrs
65
26″
134-140
8
8 yrs
65
26″
128-134
7
7 yrs
65
26″
122-128
6T
6 yrs
65
26″
116-122
5T
5 yrs
60
24″
110-116
4T
4 yrs
60
24″
104-110
3T
3 yrs
60
24″
98-104
2T
2 yrs
55
22″
92-98
18M/2T
18-24 Months
55
22″
86-92
12M/1T
12-18 Months
55
22″
80-86
6-12M
6-12 Months
50
21″
68-80
0-6M
0-6 Months
50
20 "
50-68
Kids' size charts can be confusing at times. Just like clothing, belts also provide charts to cater to the requirement of parents. From the chart provided above, one can more or less determine the belt size of his/her kid. For example, an 11year old kid would require a 28″ US belt.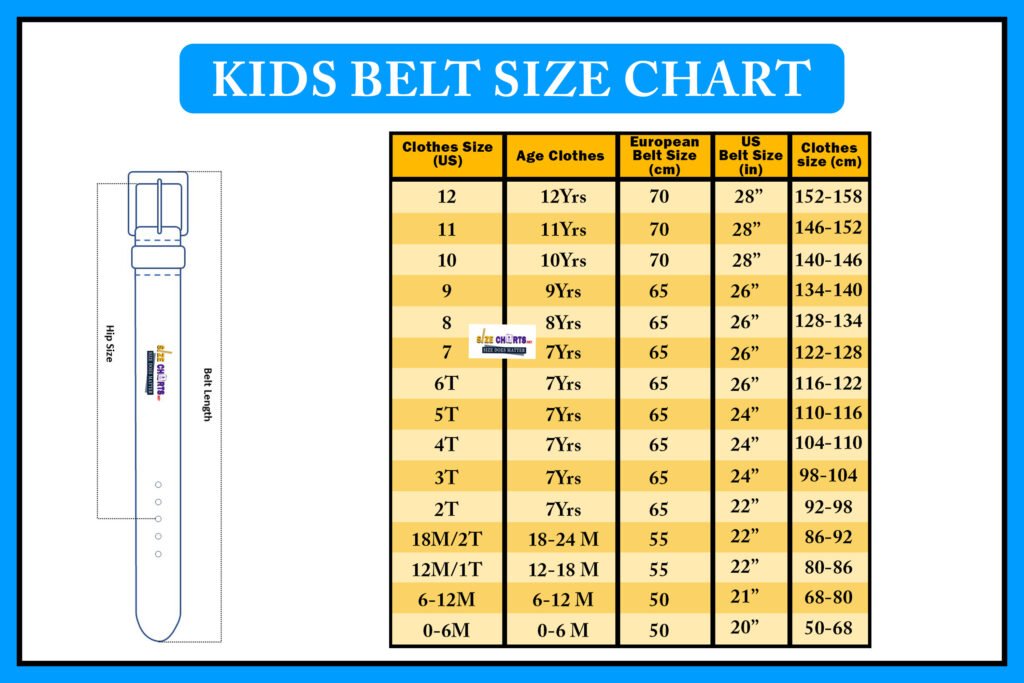 Download Kid's Belt Size Chart PDF
Belt Size Conversion Chart
The following conversion chart or table gives an idea of the international sizes that are most preferred all over the world and how to convert them in case one is having confusion regarding the different sizing systems:
US Belt Size
(inches)
International Size

European Belt Size
(centimeters)
Waist Size
(inches)

50″

4XL
125
48″

48″

3XL
120
46″

46″

2XL
115
44″

44″

XL
110
42″

42″

XL
105
40″

40″

L
100
38″

38″

L
95
36″

36″

M
90
34″

34″

M
85
32″

32″

S
80
30″

30″

XS
75
28″
A person with a waist size of 36″ (L), should go for the belt size of 38″ in the US sizing system and 95cm in the European sizing system.
What size belt should I buy for a 34 waist?
A person with a waist size of 34″, should go for size M, which is size 36″ in the US sizing system and size 90cm in the European sizing system.
Is my Pant waist size and my Belt size the same?
The pant waist size and the belt size should not be the same. Belts should be purchased at least a size or two higher in case of an even number as there should be enough room for adjusting the buckle of the belt.
If the waist size is an odd number, the belt size should be 3 inches larger instead of two, to ensure a comfortable fit. The belt should finish between the first or second belt loop of the trouser or pants and not go beyond that.