Just how you find variance in women's body type and size, irrespective of country or state, exist different women's jeans size. It begins from size zero and then continues. Different body type and size has different kind of jeans considering the jeans types. Women's Jeans Size vary according to the cut and style of it.
If you look for bootcut jeans or baggy jeans, the sizing chart must be different. You might not get the best fit in that kind of jeans following the regular size. So you must know how the women's jeans sizes work and on which factors it depends on. Many women whine for not finding the right fitting jeans but do they really research about it. If you get to know how the women's jeans size works according to the body type and size of the body, next time you go to buy a pair of Demin jeans, you would get your hands on the perfect one.
Understanding Women's Jean Size?
The size of the women's jeans is based on three major factors- brand, style, and fit. Every brand does not follow the same metric system and thus has a different size chart and likewise, the variance could be glimpsed in its style and fit. Differently cut jeans have different measurements and would distinctly fit the body.
So one must never compile the sizing chart and consider the regular size while purchasing jeans of a different style. So from the perspective of the company manufacturing, the sizing difference is as per the brand, fit, and style.
But as a purchaser, you need to know three measurements about your body- your waist, your hip, and your inseam. Based on these three measurements, you could find the right side of your jeans irrespective of the cut and style. But never overlook the fit of the different cut jeans. You could never expect skinny-fit jeans to fit the same on your waist and hip, just how your baggy jeans did.
Now let us discuss the sizing system and how it actually works.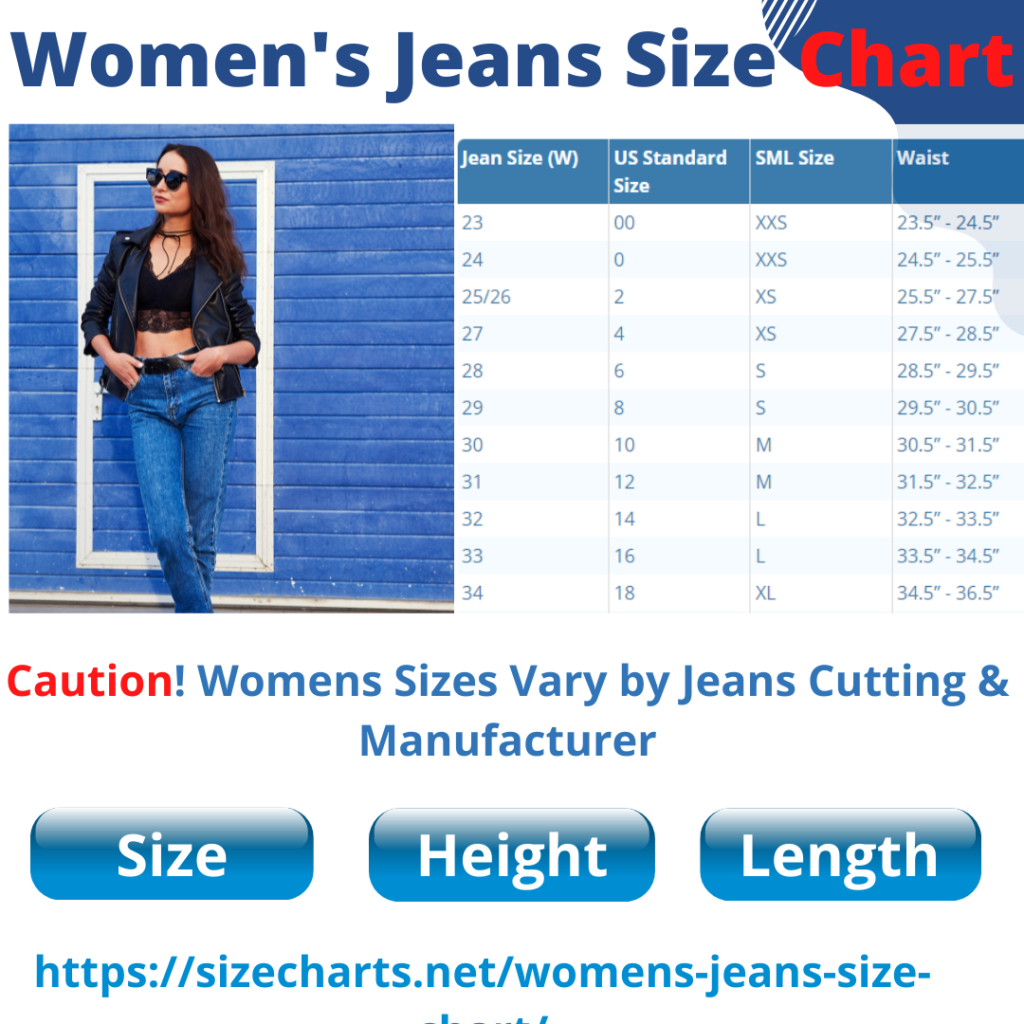 So basically the women's jeans sizes work in three sorts of measurement approaches. (Consult the Women's Jeans Size Chart table to have better understanding)
A. The numeral system that works on the body waist and hip.
In this sort, the number system is the inch measurement of the waist and hip. It begins from the size 0 and continues thereafter. The size 0 is the standard women's jeans size considered in the US. If your preferred brand follows the US sizing chart, you must measure the size of your hip and waist and then resemble it with US women's jeans size chart. There you will find the size that would be perfect according to your body size.
For example, if your waist size is 26 or 26 and a half inches, and the hip size is between 34.5 and 35 inches, then as per the US women's jeans size chart size 4 would be the perfect catch. As you move up The size, you would find the difference of half an inch and not more.
B. The numeric system but based on the inseam and waist size.
The W/L measurement system is more accurate than the numeric system since it considers the size of the Waist and the measurement of the inseam, which is inside the leg of the jeans. This would ensure you get the perfect pair of jeans with a perfect fit.
Say, for example, you have measured your waist size as 34 into 32 inches waist and inseam, respectively. With that size of your body, the jeans sizing 34* 32, you would be perfect.
c. The "SML" sizing categorizes the size of the jeans as small, medium and large.
The SML sizing system is adopted by a majority of brands and works for every kind of clothing.
The size S means small and it has different categories as well, such as S, XS, XXS.
The size M means medium.
The size L denotes large and it is sorted as L, XL, XXL, XXXL.
You will definitely find the US size chart and find the size of your jeans if you know any of the sizing systems.
For instance, if the waist size of a person is 29 and the hip is 39.5. Then as per the SML sizing system, the jeans sizing S, 6 as per the US the standard size, and 28 as per the numeric system would be perfect.
All of the sizing systems are beneficial and convenient to be people. But you might not find all the sizing systems in every brand you prefer it is better you know the conversion system and how each of the aforementioned systems works.
Also check
Women's Jeans Size Chart 
Women's jeans size varies quite a lot depending on the brand and the sizing standard used by the manufacturer. SML sizing system, Waist and hip size also play a critical part while choosing the perfect jeans. For an example, if you have a waist size of 36.5" – 38.5" and your hip stands at 46.5" – 48.5",  you should go for SML size (XL) of 20.
| Jean Size (W) | US Standard Size | SML Size | Waist | Hip |
| --- | --- | --- | --- | --- |
| 23 | 00 | XXS | 23.5" – 24.5" | 33" – 34.5" |
| 24 | 0 | XXS | 24.5" – 25.5" | 34" – 35.5" |
| 25/26 | 2 | XS | 25.5" – 27.5" | 34.5" – 36.5" |
| 27 | 4 | XS | 27.5" – 28.5" | 37" – 38.5" |
| 28 | 6 | S | 28.5" – 29.5" | 38" – 39.5" |
| 29 | 8 | S | 29.5" – 30.5" | 39" – 40.5" |
| 30 | 10 | M | 30.5" – 31.5" | 40" – 41.5" |
| 31 | 12 | M | 31.5" – 32.5" | 41" – 42.5" |
| 32 | 14 | L | 32.5" – 33.5" | 42" – 43.5" |
| 33 | 16 | L | 33.5" – 34.5" | 43" – 44.5" |
| 34 | 18 | XL | 34.5" – 36.5" | 44.5" – 46.5" |
| 36 | 20 | XL | 36.5" – 38.5" | 46.5" – 48.5" |
| 38 | 22 | XXL | 38.5" – 40.5" | 48.5" – 50.5" |
| 40 | 24 | XXL | 40.5" – 42.5" | 50.5" – 52.5" |
| 42 | 26 | XXXL | 42.5" – 44.5" | 52.5" – 54.5" |
Women's Jeans Size Chart Conversion

Different courtiers also have different sizing units and for that reason, jeans sizes vary as well. For an example, Anyone who stands at US size 10 would need  UK size 14 and EU size 40 and the same person should look for size 13 when in Japan.
How to Find the Perfect Jeans For a Woman?
Finding the perfect jeans has been a daunting process for many women. Either it gets too baggy on the knee or too fitting on the hip. To avoid it, getting the perfect measurement of the body is essential but how do you do it. The process is easy and simple.
You just require a measuring tape and a notebook.
Ask your friend or you could do it yourself as well to measure the size of your waistline, and the hip. Once you get the measurement, note it and then go to the size chart.
If the size of your waist and hip fall into the same row of the size chart, then it is easy for you to grab the perfect size of yours. But what if the measurement of your body is in between the sizes. In such cases always prefer going a size up, because no one wishes to get jeans that would be too fitting that they couldn't even walk and sit. Therefore better choose half a size up or one size up according to the fitting you wish for.
How Do You Measure For The Right Jeans Size?
People often wear jeans which do not fit them well. But if you want your clothing to complement your body type and shape, you need to measure your body well. The right jeans size could only be found out if you accurately measure the size of your body. But how do you do it? There is a simple way that needs to be followed to get the perfect measurement of your body.
Remember there are only three sections of your body to measure-
Take a measuring tape and wrap it around your waist. It is two inches above your navel. Do not hold it too tight, it should slightly touch the skin.
Similarly, measure your hip. Considered the broadest part of your lower body and measure it.
To measure the inseam, take your tape and wrap it around one leg just where the hip ends.
Once you get all the three measurements of your body, you are good to go for purchasing the right jeans. Better you follow the jeans pants size chart.
Let us assume in your measurement you have found the waist size to be 26, and the hip size as 35. If you observe this measurement, you might know these are the in-between measurements. In such a case, the right jeans for you would be XS in SML size, 2 in US standard size, and 26 or 27 in the numeric system. This is how you can find out the right-fitting jeans according to your body size and body type.
What is My Size Based on Waist and Hip?
Let us assume that you have measured your hip and waist and this is the measurement you have reached. The hip size is 34 and your waist size is 24.5. Now see the size chart, and observe the first row has a measurement similar to yours. It shows the size of the jean would be 23 for US size it would be 00 and that is a perfect fit since you are within the measurement shown in the row.
Let us assume another situation, where the hip size of your is 37.5 and the waist size is 29. If you observe, you would find that there is no particular Road that has these two measurements, which means you are in between the sizes. In such a case go buy a size up. According to the measurement we have taken as an example, your size would be 8 in the US. This is how the measurement is calculated using the size chart.
| | | | |
| --- | --- | --- | --- |
| Jeans Size | Waist Size | Hip Size in inches | Hip Size |
| 22 | 23 | 32 | 191/2 |
| 23 | 24 | 33 | 197/8 |
| 24 | 25 | 34 | 201/4 |
| 25 | 26 | 35 1/4 | 205/8 |
| 26 | 27 | 36 | 21 |
| 27 | 28 | 37 | 213/8 |
| 28 | 29 | 38 | 213/4 |
| 29 | 30 | 39 | 223/8 |
| 30 | 31 | 40 | 23 |
| 31 | 32 | 41 | 235/8 |
| 32 | 33 | 42 | 241/4 |
| 33 | 34 1/4 | 43 | 247/8 |
| 34 | 35 1/2 | 44 | 251/2 |
| 35 | 36 3/4 | 45 | 261/8 |
| 36 | 38 | 46 | 263/4 |
| 37 | 39 1/4 | 47 | 273/4 |
| 38 | 40 1/2 | 48 | 28 |
| 40 | 42 3/4 | 50 | 291/8 |
| 42 | 45 | 52 | 301/4 |
| 44 | 47 1/4 | 54 | 313/8 |
| 46 | 49 1/2 | 56 | 321/2 |
What Size is a 34-inch Waist In Women's Jeans?
A woman having the waist size 34 inches, must get the jeans in size L, 16 in US jeans size, and 33 in the numeric system. If you are wondering how did we recommend you for a woman having a 34-inch waist, the size of the perfect jeans, then it is the women's jeans size chart.
The women's jeans size chart we have on our website is the standard size for regular jeans and not for any unusual cut or style. So if you are looking forward to purchasing regular jeans or skinny-fit jeans, this size chart would be a good guide to you.
As you refer to the size chart, you would find the size of the perfect jean for women of every size.
How to Choose the Perfect Jeans for Your Body Type?
As you walk on the streets, you look at the clothing and the style worn by people. Do you ever feel the jeans the woman is wearing are hardly complimenting the body type? It is a common observation to have if you focus on the sense of style and fashion.
People are not aware of their body type and hence do not show any interest in finding out the right kind of jeans that would complement their body shape. They barely focus on the kind of jeans good for the kind of body. No doubt that jeans are one of the clothing items that could make you feel comfortable and stylish unless you pick any from the exhibited.
But not anymore here we are to tell you which kind of jeans would complement your body shape and enhance it more.
Jeans for an hourglass body.
The hourglass body is considered one of the most beautiful body shapes. The measurement of the hip and the measurement of the shoulder is equal. These beautiful bodies have rounder hips and smaller waists.
For this kind of bodies, cropped cut jeans would be perfect as they would highlight the waistline and give structure to the body. Go for high waist jeans that would highlight your hip by contrasting with the small waist and creating a beautiful shape that your body already has. While going for trousers, you better pick up the ones with the stretch in them so it molds into your figure.
Jeans for a triangle body.
The beautiful triangle body is wider at the bottom portion if compared to the upper half of the body. The hips are comparatively rounder than the shoulder, creating a great difference in the width of it. This kind of body always looks forward to balancing it out. Either you could choose to highlight your hips like an hourglass body or decide to conceal it to balance it out with the upper portion of your body.
The woman willing to conceal the hips must go for Mid-rise jeans with a straight cut. It will reduce the volume of your hip and take away the attention from the concealed part of the body.
And the women who want to flaunt they are god gifted round and beautiful hips, skinny jeans are perfect.
Jeans for tall-legged women.
Tall legs are a blessing to a woman, but little do they feel the grace who have it since they find it difficult to get the perfect gym that would complement their body. There is nothing much to think about when you have tall legs; you just need to flaunt them. The best pair of jeans that would look good on you is white skinny jeans with relaxed shorts or a top at the up. Both would complement Each Other by complimenting your body as well. If you want to go for a relaxed fit then low rise or mid-rise relaxed jeans would just look neat.
Jeans for rectangle body.
The rectangular-bodied women have the same proportion of waist-hip and shoulder. These kinds of bodies require jeans that would create curves and highlight the curved portion. The major objective would be to highlight the hip and create a contractual effect on the waist. The bootcut jeans and the straight-cut jeans would be your Holy Grail. This kind of jeans would make your body look perfect while adding some shape to your hips and creating a flattering body type.
You might also go for Mid-rise skinny jeans and top it up with the well-fitted top. It would better showcase your body shape without making it look flat.
Size matters, and therefore, this is the best way to find perfect-fit jeans for your body type. There is more body type such as petite, diamond, and oval. For them, skinny jeans, Mid-rise straight cut jeans, and high-rise flared jeans would be perfect, respectively.
How to Convert the Woman's Jeans Size?
If you have found a pair of jeans from the men's section but are unable to find the perfect size of yours, then you are required to refer to the men-to-women jeans size chart conversion. If your waist size is 30 inches then you need to grab the size 33 similarly, if your waist size of yours is 28 then 29 is a perfect fit of yours from the men's section.
Men to Women's Jeans Size Conversion Chart
Women's Jeans Cuts & Styling and how they can influence Your Jeans Sizing
You can have the perfect measurement for your Hip, Waist & Inseam, but still, you might not get the exact perfect jeans fitting. Not only them, but the jeans cutting and style can immensely affect the sizing, especially the wide selection of styles and range women jeans offer.
Here is a simple example to make you understand it better. Women's waist size varies from 24 "-48″ (Just took the standard just for the example), and 24″ waist woman can stand in between 4'10' to 6′ or 48" waist woman can stand the same 4'10' to 6′ in heigh. Do you think they both would bit the same jeans size or can they both wear skinny jeans, Hipster, flare cut, etc. Simply no, and that is why it is important to understand the jeans cut and style.
Women's jeans are designed to fit a variety of body types. They are available in different cuts, which can affect the way they look. There is no one-size-fits-all solution for finding the perfect pair of jeans for your body type.
Women's jeans cuts can be divided into seven main categories:
High waist: The high waist cut is the most traditional cut and it features a higher rise than the other cuts. This style of jeans is perfect for those who want to show off their curves.
Hipster: The hipster cut has a lower rise than the high waist cut and it features a more fitted leg opening. The bootcut is similar to the flare but its leg openings are more baggier and wider at the bottom. This style of jeans is perfect for those with athletic builds. These are also called "mom jeans" because they sit right below the hips, have a wide leg opening, and are often baggy around the hips and thighs.
Bootcut: Bootcut jeans are wider at the knee and taper at the ankle, making them more comfortable than other styles.
Flare Cut: The flare cut has wide leg openings that make them loose around the ankle area, which makes them comfortable to wear all day long. The capris also have wide leg openings but they end below.
Capris: Capris are cropped just below or above the knee, making them perfect for warmer weather or as an alternative to shorts in colder months.
Skinny jeans: Skinny jeans are a fashion staple in the fashion industry. They have been popular since the 1990s and have continued to be a trend in recent years. In recent years, many people have been opting for skinny jeans because of their versatility. They can go from dressing up an outfit with heels or dressing down with sneakers, making them perfect for any occasion.
Jeggings: Jeggings are a type of jeans like the ones seen on the runway. They are produced from a blend of fabrics such as cotton, polyester and spandex to create a skin-tight fit. They look like jeans but they feel like leggings or tights.
Jeans Sizes Around the World Guide – Hit the Streets in Style!
Different parts of the world follow different jeans size charts and systems. The sizing system of the US would not match the UK and none of them would match the sizing chart of the Europeans or China. So each of them follows a different sizing chart but that doesn't constraint anybody from purchasing or finding out the right size jeans for them.
Never take it as a disadvantage; rather, it is a good variance that is spread all over the world. It is additional knowledge that you can add to your skills.
If you are an Indian, you would not have any issues finding the perfect size jeans while you go to the US or UK, since India follows the sizing system of the US and UK. Many Indian and international brands have a resembling size chart so while you purchase any kind of clothing either from a physical store or through online pickup the sizes are either as per the UK or US size or the usual Indian size.
Suppose you are from the UK and the jeans are size 8. And for a vacation or for work you are recently residing in Europe. What can you do in such a case if you need jeans right then? You will follow the women's jeans size chart conversion.
The things you are of size 8 as per the UK sizing chart in Europe size 34 would be perfect for you. Similarly, size 7 would be great if you are following Japan sizing measurement style. Likewise, 4 would be your US size.
Once you follow the size conversion chart before purchasing women's jeans no matter which country you are residing in, or wherever you go around the world, you can hit the street in style.
Some of the Famous Jeans brands
1) Levi's
2) Wrangler
3) Diesel ·
4) Lee Jeans
5) Pepe Jeans
6) True Religion
7) Calvin Klein
8) Armani
‎9) Lee Jeans
10) Pepe Jeans
11) Gucci Jeans
12) Killer Jeans
Levi's Women's Jeans Size Chart
| US Size | UK Size | Jeans Waist Size | Waist (Inch) | Hip (Inch) |
| --- | --- | --- | --- | --- |
| 00/0 | 6 | 24 | 25.25 | 34 |
| 0/1 | 6 | 25 | 26.25 | 35 |
| 2/3 | 8 | 26 | 27.25 | 36 |
| 4/5 | 8 | 27 | 28.25 | 37 |
| 6/7 | 10 | 28 | 29.25 | 38 |
| 8/9 | 10 | 29 | 30.25 | 39 |
| 10/11 | 12 | 30 | 31.25 | 40 |
| 12/13 | 12 | 31 | 32.75 | 41.5 |
| 14/15 | 14 | 32 | 34.25 | 43 |
| 16/17 | 14 | 33 | 35.75 | 44.5 |
| 18/20 | 15 | 34 | 37.75 | 46.5 |
| 16W | | 34 | 38.25 | 47.25 |
| 18W | | 36 | 40.25 | 49.25 |
| 20W | | 38 | 42.25 | 51.25 |
| 22W | | 40 | 44.25 | 53.25 |
| 24W | | 42 | 46.25 | 55.25 |
| 26W | | 44 | 48.25 | 57.25 |
| Height (Inch) | Inner Leg (Inseam) Length Size | Alpha Inseam |
| --- | --- | --- |
| 61 or smaller | 28 | |
| 62 – 65 | 30 | S |
| 66 – 69 | 32 | M |
| 70 or taller | 34 | L |