What are the Physical Size, Price, Dimensions & Measurements
of the iPhone 13 Pro?
iPhone 13 Pro is the premium flagship cellphone released by Apple.
The next-level phone was launched by Apple on September 24, 2021. It has the world's fastest smartphone chip- Apple A15 Bionic, paired with an amazing camera system and responsive display.
The display size of the iPhone 13 Pro is 6.1 inches with a resolution of nearly 1170 x 2532 pixels. It has exceptional durability and premium battery life. Its unique hardware system makes the cell durable and tough. The triple pro camera system, which super-intelligence software that ensures smooth film-making technique and capturing in the night, becomes easy.
Dimension of iPhone 13 pro is 146.7 x 71.5 x 7.7 mm (5.78 x 2.81 x 0.30 in).
The weight of the iPhone 13 Pro is 7.20 Oz i.e. 204 g.
iPhone 13 Pro Price:
iPhone 13 Pro is priced at $999(119499 INR)
iPhone 13 Pro Features:
iPhone 13 Pro is basically a good blend of advanced hardware and super intelligence software. Apple has provided the best upgrade ever in iPhone 13 Pro. It has housed an advanced camera system dimension. Macro photography has come into the system with its powerful auto-focus and redesigned lens. It has a triple 12mp quad-core camera that features dual-LED dual-tone flash and HDR. Additionally, it has a dual 12-megapixel front camera.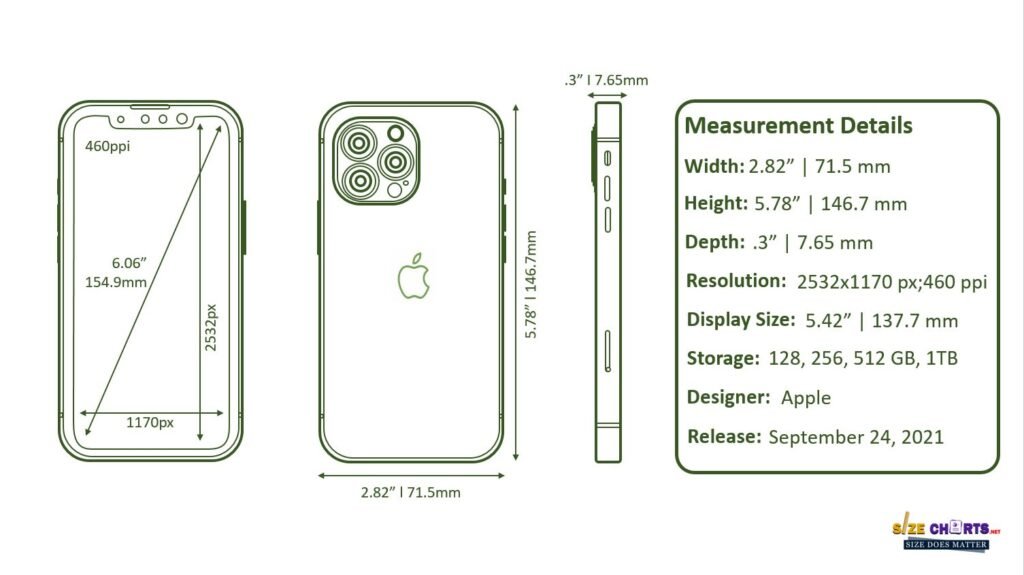 iPhone 13 Pro is the best you can get to get the light at night. Photography at night is not an issue with iPhone 13 Pro's largest sensor and wider aperture to get the light right.
iPhone 13 comes with internal memory storage of 128 GB that is expandable to 256 GB, 512GB, 6GB Ram, and 1TB GB. Storing your shot photographs and cinematic clips is now easier with the cellphone.
When it is the iPhone 13 Pro, you can get the longest battery life. Its Hexa core CPU and Apple GPU provide the best battery life ever. Besides these, its wireless charging and fast charging feature make it worth the purchase. It is equipped with a non-removable 3095 mAh battery with fast charging facility. It can get charged up to 50% in just 30 minutes.